The "tri-five" Chevrolet is probably one of the best canvases around for those who want to create a custom car. While there are those who love to bring these iconic cars back to near-original conditions, customizers have a field day with them. We've already talked about a '56 El Camino 60th anniversary tribute and a '57 Chevrolet resto-mod along with a coverage of the '55-57 Chevrolet Nomad. While those cars definitely improved the performance that would have been stock in a tri-five Chevy, this car brings performance to a whole new level.
Anyone who has a TV and loves cars knows that there are speed shops all over these United States including Pete's Fabrications in Bowling Green, Kentucky. Pete's is noted for their aluminum parts for tri-five Chevrolets but they decided they wanted to show off what they could do so, in the late 1990s they took a '55 Chevrolet business coupe and turned it into a pro street monster that they used to show off just what the shop was capable of.
After three years, 3,500 hours and over $170,000 this was the result - a fire breathing performance monster. Under the hood you'll find a race prepped blueprinted 468 big block, GM Performance Block with 4 bolt mains, Forged Steel Crankshaft, I Beam Forged Rods, SpeedPro Pistons with 10 to 1 compression, Edelbrock Aluminum Cylinder Heads, Full Roller valve train, Milodon 10qt oil pan, Titan oil pump, 2 Edelbrock 4bbl. carbs, MSD Ignition, 2 1/2" Hooker competition headers with 3" exhaust system, High torque mini starter, Engine builds over 650 horsepower. Engine runs on 91 octane pump gas.
Controlling all that power is a TI Performance Turbo 400, Manual/automatic valve body, 2800 rpm stall convertor with a B&M Pro Stick Shifter. The transmission sends the power to a narrowed Ford 9" differential that is beige powder coated, Strange Engineering Nodular Positraction center section with 3.91 gears, Strange Engineering 35 spline axles.
About that powder coating, you'll find the entire underside is beige powder coated and it matches the beautiful beige leather upholstery inside this incredible custom. That beige leather extends to the trunk which is as beautifully finished as the rest of the car.
The beige leather and chassis are offset with a Viper red body and, of course, chrome abounds in this car.
I've watched this car come into car shows many times and the brake pedal is as important as anything as the car just wants to go, go, go.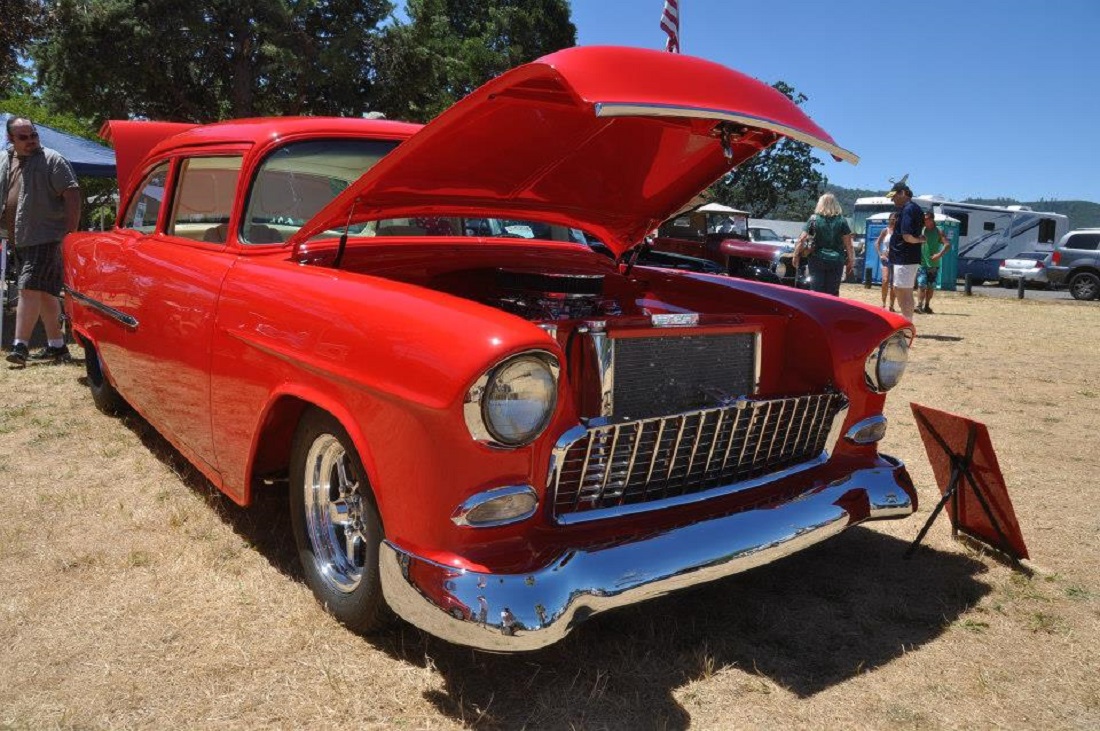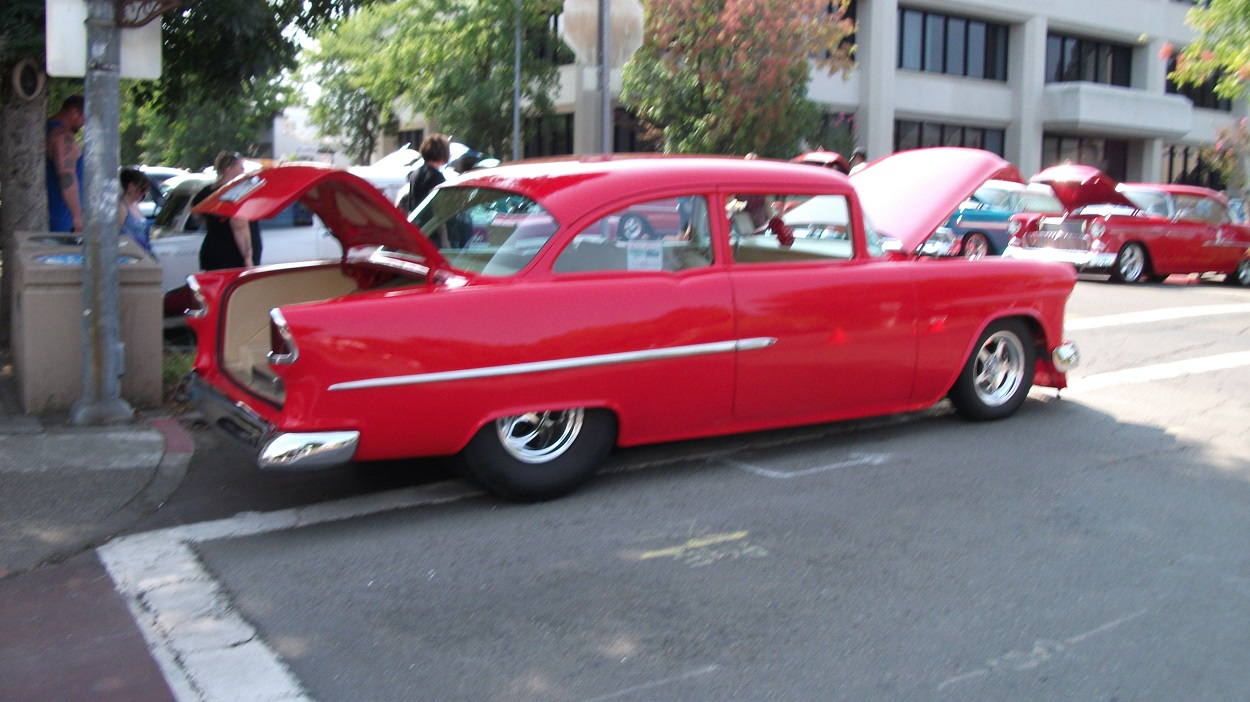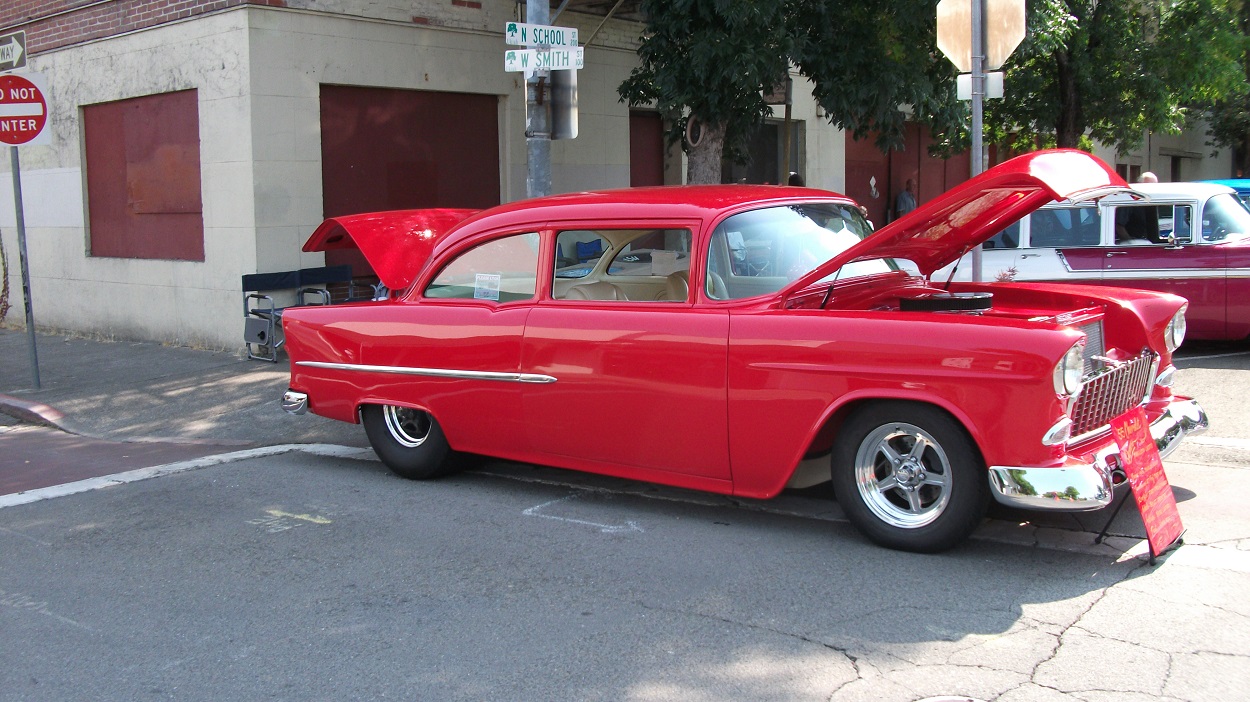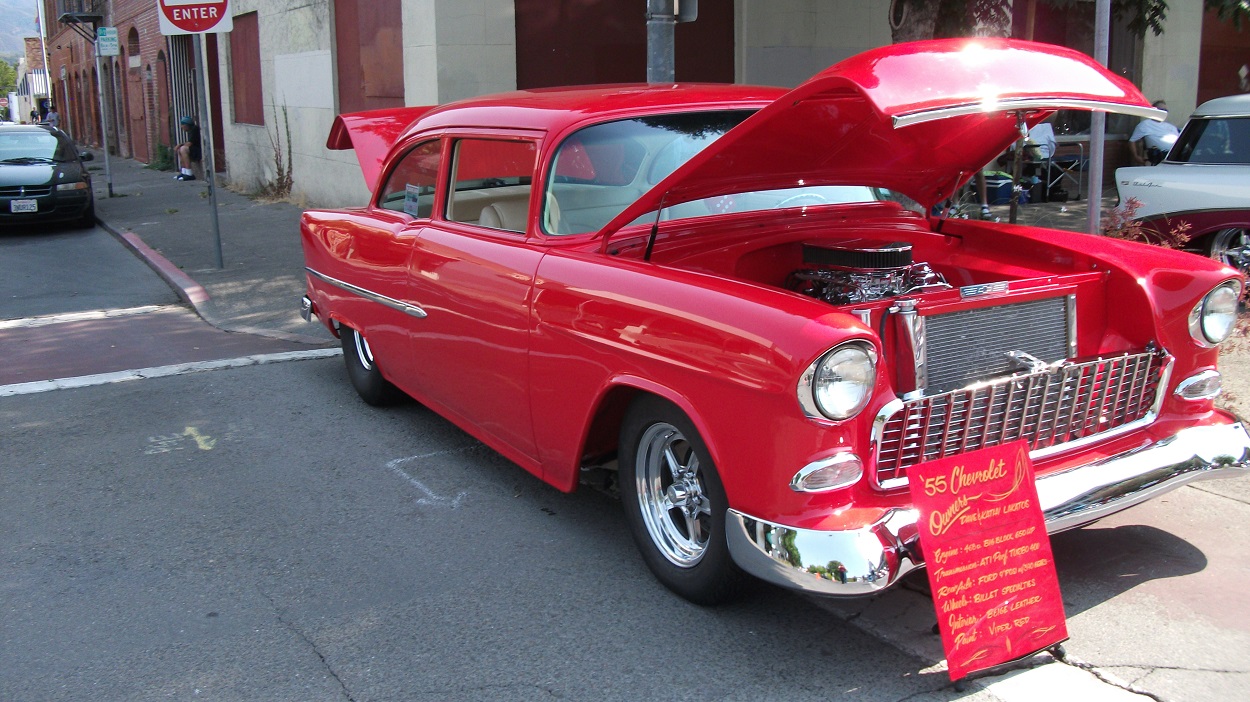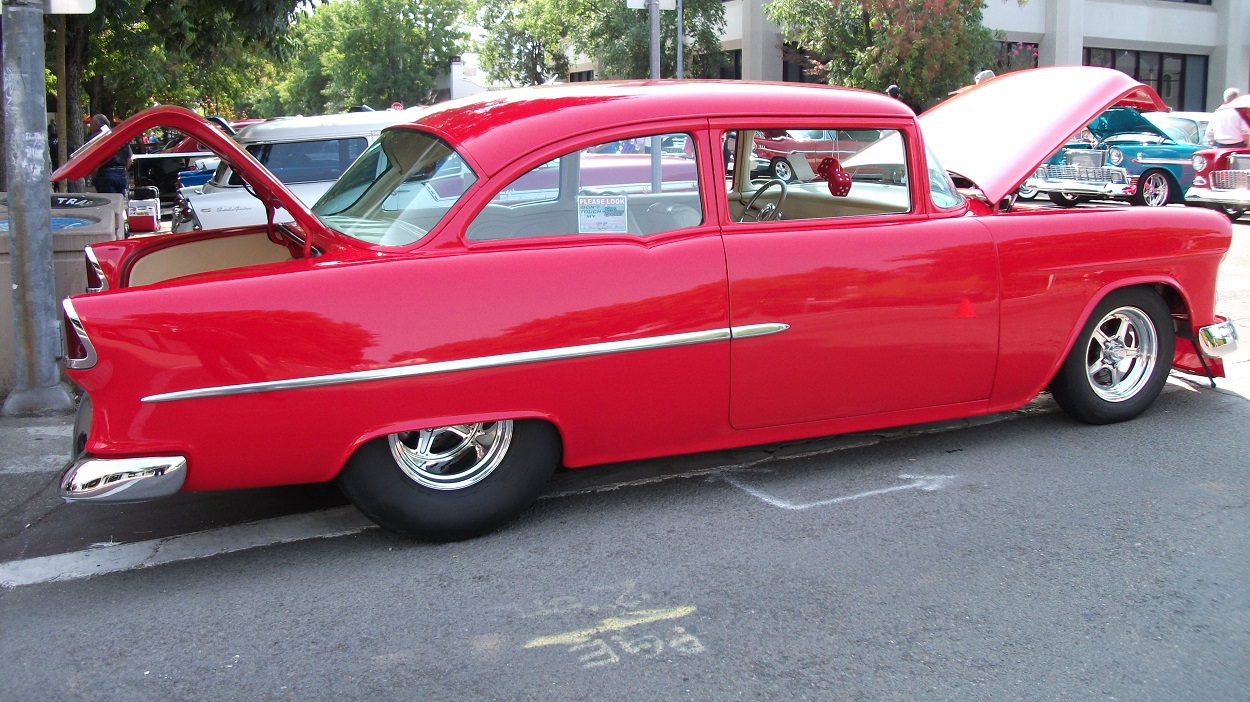 This car is a great example of a Pro Street car which are vehicles that were custom built to look more at home on the track than the street, but the cars themselves are basically street legal. However when you approach this car from the back and see the 15" X 15" Hoosier radials on the back in their tubbed enclosures there are few who would dare to challenge this car at a stop light. There is no question that it wants to win.
The car is based on a style of automobile that is now no longer seen, but was very common through the mid-1950s. The "business coupe" was a car designed specifically for traveling salespeople to use and often had no back seat. These cars were usually devoid of luxury features so these salespeople could roam the country peddling their wares. One of the many reasons back seats weren't prioritized is that the space was often used to store the wares these businessmen peddled.
The present owner, Dave Lakatos, has had a lot of fun with the car winning over two dozen trophies at car shows with the beautiful machine but it actually looking for the next caretaker of this car. If you love fast, beautiful loud customs this could be you. You can contact me and I'll share your information with Dave.