In 1956 Chrysler Corporation was on a roll. At that time there were four divisions selling various versions of their new "Forward Look" automobiles - Plymouth, Dodge, DeSoto and Chrysler not to mention the fact that the company branched off Imperial as a fifth division of sorts. The job of DeSoto was to challenge brands like Mercury and Oldsmobile head-on and it did, outselling both of those brands handily. This 1956 DeSoto Fireflyte Sportsman was at the top of the brand's line as a luxurious and well-equipped car that was sort of a preview of the truly excessive styling to come.
While this '56 DeSoto definitely has things like two-tone paint and fairly large tailfins, it's successors can beat it with three-color paint and much larger fins. Still, with its 330 cubic inch "hemi" engine and three-lamp vertical tail fins out back this car made a statement both to the eyes and the soul.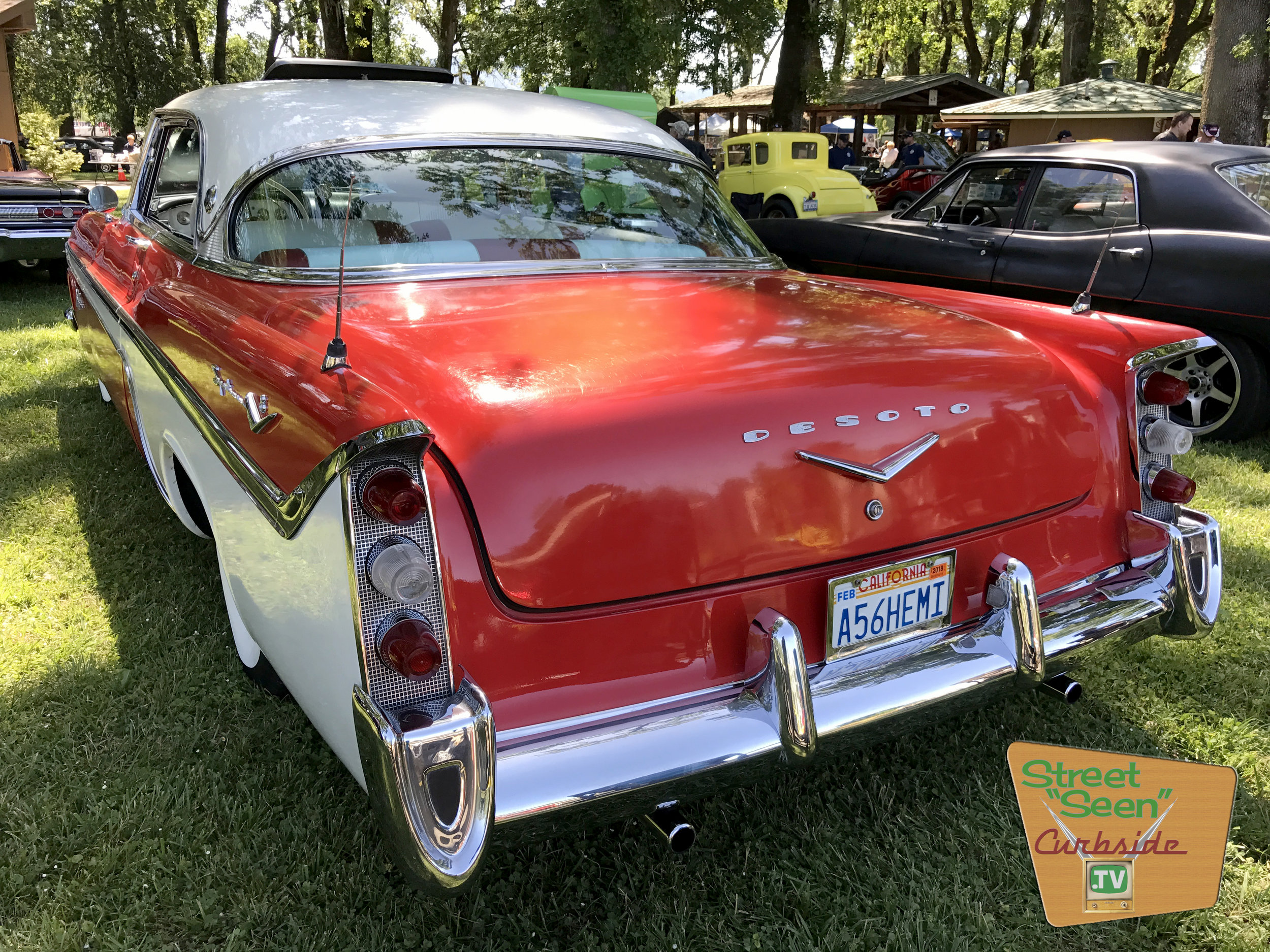 While today acceleration from a dead stop to 60 miles per hour in 11 seconds is something even a Prius scoffs at, those were numbers the car magazines were excited about when this car was new. Add to that that the engine delivers power through a pushbutton "PowerFlite" automatic transmission and you have quite the technology motivating over two tons of steel.
Compared to the Dodge of the same era it was clear that the DeSoto was a step up. Though even the least-expensive nameplate in the Chrysler Corporation lineup, Plymouth, was starting to become a looker with available luxury features low-priced buyers could only have dreamed about in the past.
The year our featured car rolled off the end of the assembly line was a good year for the brand. The folks who choose pace cars for the Indianapolis 500 unanimously voted to have a DeSoto on the track based on the performance of these cars. Considering that this car could cruise along at 110 miles per hour, who could blame them?
It seemed that everything was coming up roses for DeSoto so it was great to come across this two-toned beauty at a car show recently. Even after over half a century this car is still strikingly attractive with tasteful but very apparent chrome at every glance. This is offset by the word DeSoto in a gold-tone metal largely apparent above the full-width grille on the car that features a similarly gold-colored "V".
From end to end this car literally looks as if it had just come out of a showroom via the neighborhood time machine. It was impressive how original the car looks and the pictures almost don't do it justice.
When you consider how rare things like back-up lights are in 1956, it's a testament to the luxury of this car that they're here at all and are arranged as if they're the middle light on a light tree ready to let the horses loose at a drag strip. Above the trio of taillights on each fender is an antenna to make sure the AM radio tunes in songs that today are golden oldies but were the hottest of the hot when this car itself was a hot item gleaming in the showroom.
Despite the huge success of the 1955 and '56 DeSoto line, it was only four years later that Chrysler pulled the plug on the brand entirely. In November, 1960 the DeSoto marque faded into history leaving only Dodge, Plymouth and Chrysler to soldier on with Imperial also having its own brand for a while longer. Today, of course, Imperial and Plymouth are also just nameplates we'll enjoy seeing at car shows and the word is that even Dodge may stop producing passenger cars soon.
Chrysler Corporation's much-publicized investment of $100 million in 1955 to bring this and its sister cars to market was a huge deal then, when a sum of that size would create a line of cars that had a huge impact on the market. Today it's typical that automakers spend 10 times that to get nice refreshes on existing platforms.
The world has changed a lot in 60 years but it's sure great to see a time machine from the past that shows us how beautiful $100 million dollars looked in 1956.