Growing up with a dad who was the "father of the T3 turbo" meant that automotive-related stuff was always on the horizon. This includes participating in the Pinewood Derby before I got kicked out of the Cub Scouts. Hey, if a little fire is good a giant one is better, right? Yeah, they didn't think so either.
But the Pinewood Derby was something I still remember to this day. My dad and I got the little kit that the Boy Scouts sold and, a whole lot of cursing and woodworking later, my dad...er, my dad and I...had finished a glorious replica of the Mercedes-Benz race car of the era.
I held a fascination for antique American cars so we actually built a second replica that looks somewhat like a brass-era Buick and I had a greater hand in that build than the Mercedes. Though my car had the aerodynamics of a 1929 Buick whereas the Mercedes was probably the slickest car on that track so it did really well. I think mine ultimately wobbled the entire way down the track. Slowly.
I was thinking of those bygone days when the our local service club was pitched to sponsor the Pinewood Derby in our neck of the woods. Naturally, I had to go check it out. Like so many other things, the Pinewood Derby has changed. And hasn't.
Technology has changed so many things including the Pinewood Derby. I was surprised that the timing gate was electronic and tracked the cars as they rolled through. No more guessing who won the heat - electronics to the rescue which is pretty cool.
According to Wikipedia, the first Pinewood Derby was held on May 15, 1953 at the Scout House in Manhattan Beach, California by Cub Scout Pack 280C (the present Pack 713). The concept was created by the Pack's Cubmaster Don Murphy, and sponsored by the Management Club at North American Aviation.
Murphy's son was too young to participate in the popular Soap Box Derby races, so he came up with the idea of racing miniature wood cars. The cars had the same gravity-powered concept as the full-size Soap Box Derby cars, but were much smaller and easier to build.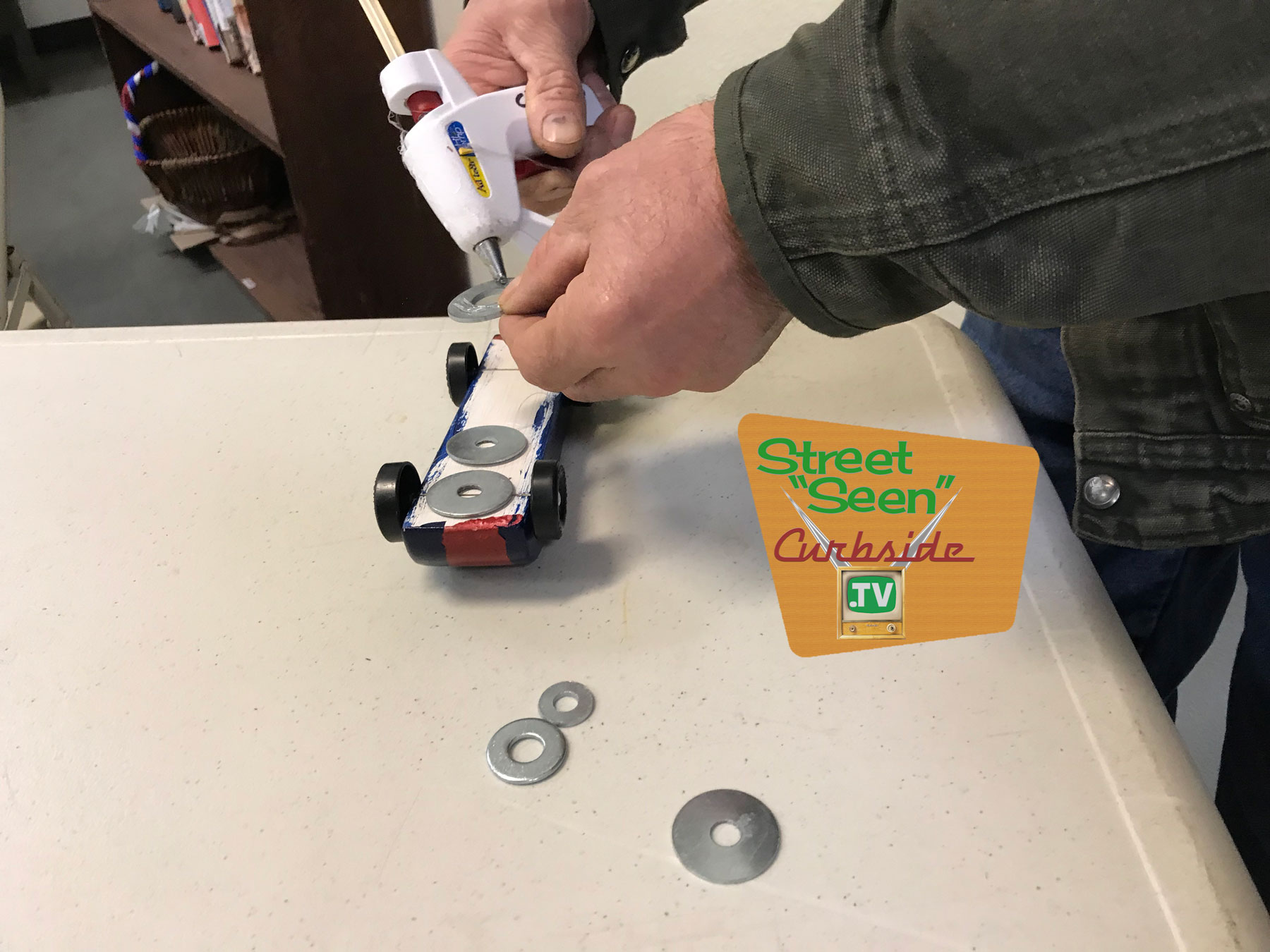 The pinewood derby had a sensational first year. Murphy and the Management Club of North American Aviation sent out thousands of brochures to anyone who requested more information. The idea spread rapidly, and competitions were held across the country, mainly with recreation departments and nonprofit organizations including the Los Angeles County Department of Recreation. Of all that early enthusiasm, however, only the Boy Scouts of America made it part of an official program. The National Director of Cub Scouting Service, O. W. (Bud) Bennett, wrote Murphy: "We believe you have an excellent idea, and we are most anxious to make your material available to the Cub Scouts of America." Within the year, the Boy Scouts of America adopted the Pinewood Derby for use in all Cub Scout packs.
In its October 1954 issue, Boys' Life publicized the event and offered plans for the track and a car, which featured "four wheels, four nails, and three blocks of wood."
Murphy continued to run the derby program through the Management Club until his retirement from North American Aviation in 1978. He died in 2008. I guess I must have met him as I was in the Inglewood Boy Scouts and remember racing Manhattan Beach in the 1970s. How cool is that?
What hasn't changed is that the Scouts get a few blocks of pine and two axles. From there it's up to you to make sure your car weighs-in correctly and rolls down the track.
As with my experience, cars ranged from barely modified versions of those blocks to ones that clearly had parental input in their completion. I also saw cars that were obviously created by the older Scouts and were rather creative.
When you get to one of these events your car is weighed and the idea is to come as close to the maximum weight as possible. To further that effort, plenty of washers were on hand along with glue guns to adhere the washers.
Back when I was a lad and racing in the Pinewood Derby there was a dad who had a router and we would rout out the wood and melt lead into the hole to compensate for the weight variance. What could be better for a young lad than playing with melting lead?
One of the things that clearly hasn't changed is that there were a ton of kids of all ages who were having a great time racing their Pinewood Derby creations. From wild customs to mild modifies and anything in between, the Scouts were hooting and hollaring as their cars rolled down the track and shouts of joy could be heard in the room full of fun energy as cars made it through the finish line.
This is a great activity for young people combining creativity and friendly competition so it's no wonder it seems to be as popular today as it was back when we chipped these cars out of dinosaur bones and stalactites.
The good thing is that now there are adult competitions as well so the fun doesn't have to end just because you're able to legally drive a full-sized car. There's more information at https://pinewoodderby.org/ - perhaps even a lead on where you can go race or at least enjoy watching one. I know I had almost as much fun as the kids at the event and I didn't even have a horse in the race. Now if I can only find my vintage Pinewood Derby cars - I know they're still around somewhere.