Most everyone is aware of Chevrolet's Corvette and Ford's Thunderbird and their role in creating a new class of American sports cars. But few remember another contender, the swoopy Kaiser-Darrin roadster.
Howard "Dutch" Darrin found fame designing custom car bodies for America's well to do. His reputation for sleek, head turning car designs led directly to Henry Kaiser hiring him to sharpen up his company's frumpy looking sedans. Darrin penned a radically wide, low-slung shape that shouted modernity. Over the objections of his in-house designers, Henry Kaiser went for the new look, introducing a 1951 line that leapt years ahead of the boxy, upright designs of its competitors.
Fatefully, Kaiser soon pushed through a little compact called the Henry J, a pet project that unfortunately helped pave his company's road to ruin. Though Darrin submitted a sleek proposal that reflected the company's popular full-sized cars, Kaiser chose another, stubbier design and his Henry J ended up resembling a shrunken '49 Cadillac from another, sadder dimension.
Still determined to show Kaiser what he could do with a small car, Darrin spent his own funds to build a prototype sports job on the compact Henry J chassis. Along with its sleek lines, it featured Darrin touches like sliding pocket-doors and a three-position cloth top. When he presented his swanky two-seater to Henry Kaiser, the old man grumped disdainfully, "We are not in the business of building sports cars." Then his new, younger wife spoke up, "Why Henry, I think that's the most beautiful thing I've ever seen. I don't see why you aren't in the business of building sports cars. I don't think there will be many automobile companies that won't go into the sports car business after seeing this car." Henry reluctantly agreed to make Darrin's dream come true, based on a fiberglass body for quick construction with limited tooling costs.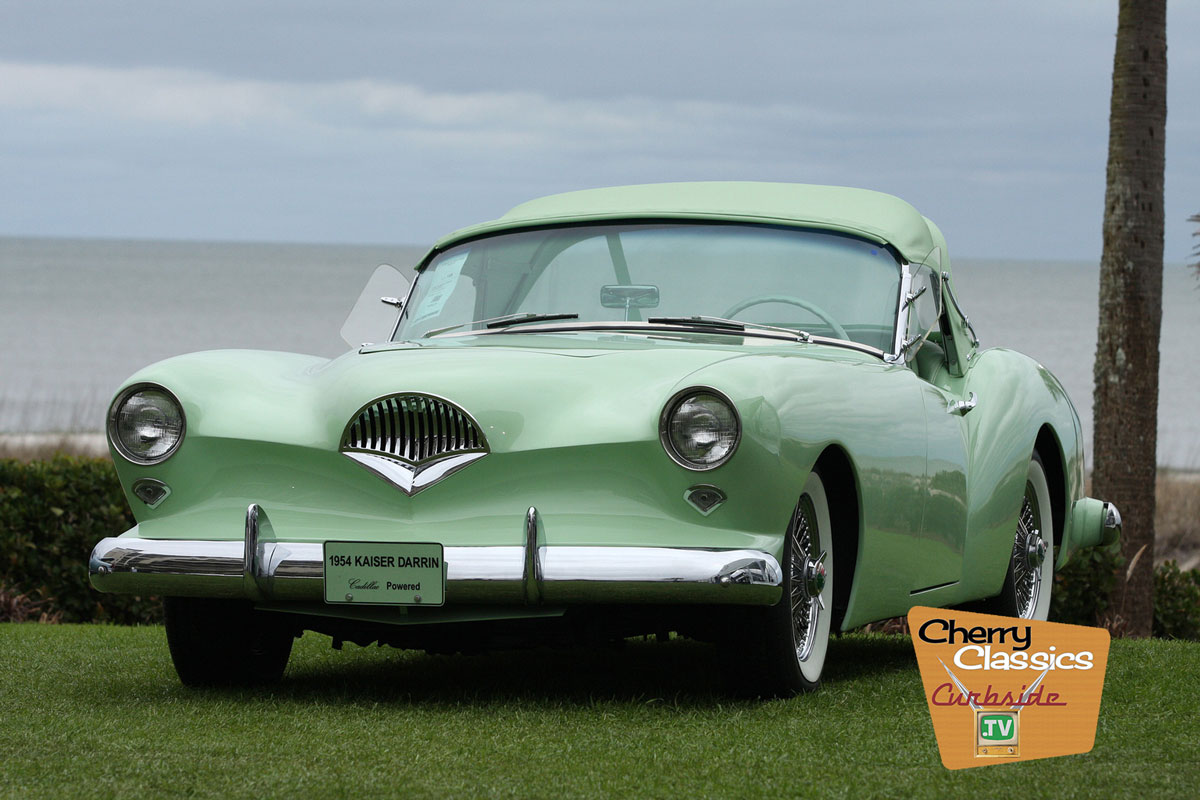 Historic accounts differ, with some stating the Kaiser-Darrin was first shown at the 1952 Petersen Motorama in Los Angeles, while others claim it was announced, without a car to show, at New York's 1953 Auto Show; the same venue where Chevrolet first showed a prototype of its own exciting new fiberglass-bodied Corvette. In either case, Kaiser called it the KF-161 after its six-cylinder engine "boasting" 161 cubic inch displacement. It was later renamed simply Kaiser-Darrin.
Unfortunately, though the roadster looked as sleek and muscular as a cheetah; it was powered by the tiny, overworked heart of a Chihuahua. The Kaiser-Darrin's wheezy little six-cylinder engine failed to deliver the performance that Darrin's swoopy design promised.
Just a year after introducing their new sports car, Kaiser abandoned the American auto market entirely and the Kaiser-Darrin was toast after only 435 examples had rolled out. Priced higher than a new Cadillac or Lincoln of the time, Darrin's underpowered roadsters found little favor in the marketplace. After the company's collapse, fifty unsold Kaiser-Darrins were stored outdoors where they suffered the indignity of being buried in a snow bank after a freak storm. They'd deteriorated badly before finally being sold off to Darrin, who cleaned them up and marketed them on his own, with some examples enjoying much-needed transplants of Cadillac V-8 engines.
Of the 435 Kaiser-Darrins built, 412 survive in museums and collections from coast to coast. At times like these, when we're starved for cars with distinctive character, these sleek little plastic dreamboats look better every year. Perhaps Mrs. Kaiser was correct after all.
Written by Jim Cherry