I love finding one-owner cars and I came across this 1930 REO Flying Cloud that has been in the same family since it came home from the new car dealership. This incredible story about a one-family-owned car was written by its today caretakers. This was only the second show they've been to since fully restoring the car so let's visit with the people who resurrected Grandpa's REO.
1930 REO Flying Cloud
When I first started visiting my girlfriend's (now wife Sam's) home in Napa, CA around 1972, there was a old car parked in the garage. Apparently it had been sitting there for years and was mostly disassembled, the cats had worked on the upholstery, and it was piled inside and outside with various boxes and "stuff". We were married in 1974, continued to visit her parents many times over the years, and passed by the car named "Susie" with hardly a glance. Just a little more dust.
Her father, Robert Streich, passed away in 2011 at the nice old age of 104. He had graduated from UC Berkeley (Electrical Engineer) in 1929 and worked for RCA long distance communications, at the RCA receiving station in Pt. Reyes, CA. In going through old papers and boxes, we found a box with lists of items needed to restore Susie – and we became the owners of this project.
It turns out that Sam's grandparents had purchased this car new in 1930 – A REO Flying Cloud, Model 25. They drove it until 1956. Somewhere along the line it had had the mechanical fuel pump replaced with an Autopulse 500, and a couple of fender benders had occurred. The left rear fender was munched and pounded out a bit. But otherwise, the car was in pretty good shape.
In 1965, the car was moved to their garage to start restoration. Sam's father and brother Bob started with the engine and chassis – the brakes were rebuilt, new tires were purchased, the chassis was cleaned and painted, and a muffler kit from Waldron's was purchased. The engine was rebuilt – new rings, valve job, new Babbitt metal bearings, new water pump stainless steel shaft, and then pickled. The pistons and cylinders were in good shape. The radiator was also cored out, since during the last drive it was overheating. All the chrome parts, bumpers, bolts, headlamps, door handles, were removed and re-chromed. All the parts were "organized" into boxes – many boxes.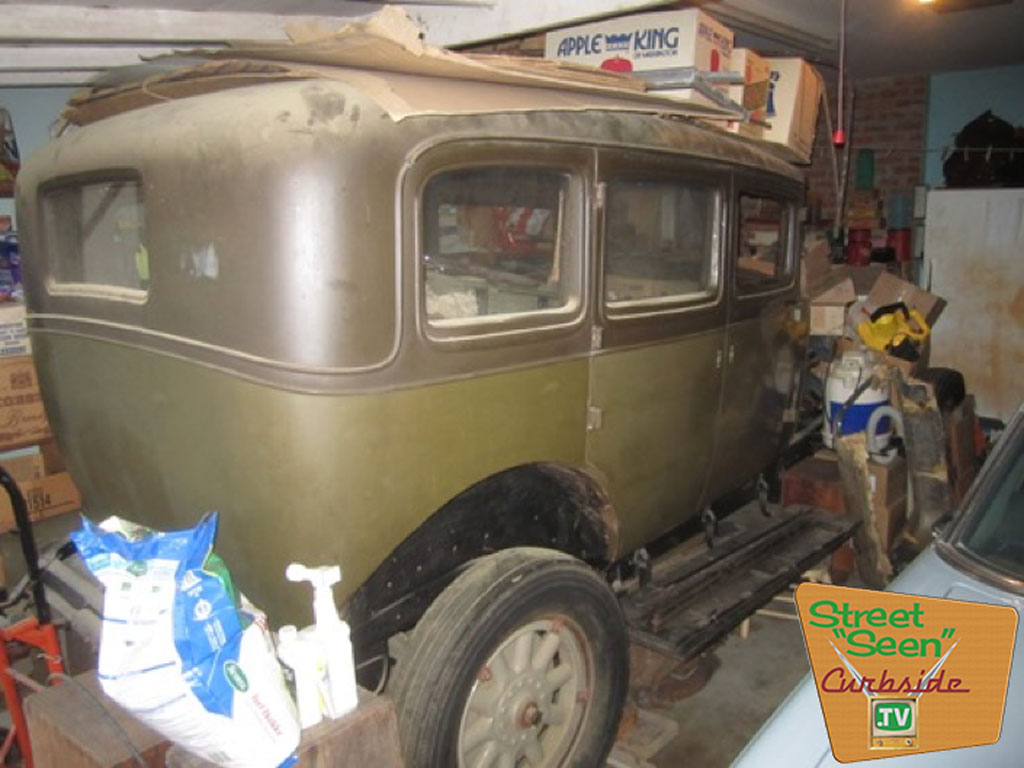 After that, it sat for almost 50 years, until in 2014 we moved the car to Sebastopol. (That in itself was fun – the car did not want to move – the "new" wheel bearing grease had frozen up.) We kept finding parts here and there – but fortunately, we did find them. Tires and fenders were in the barn, full of rat's nests and rat stuff. Bumpers were in the rafters. Boxes were in the attic. After about 3 trips we had all we were going to get, and had a bit of a jig saw puzzle to figure out.
So now we are the proud owners of a REO Flying Cloud – I've built several experimental airplanes, but have never worked on a car older than 1971. Where is all the data? Parts and assembly manuals? Well, it turns out that there isn't much of that available, and even fewer actual parts are available. Fortunately, a few things we needed were fairly common as many manufacturers used the same parts, so some are available today. Mainly we needed all new window channels, roof materials, upholstery, carpet, rubber door stops. But we could not find a working windshield vacuum motor for that model year – the parts made for that year are too far gone to be of any use. After joining the REO Club of America, we contacted Mr. Jay Leonard, and got a lot of good information, like how to free up stuck door levers.
We began serious restoration by having the damaged wheel well fixed – the local body shop did a really nice job – cutting the fender well from the side quarter, straightening both areas, and then welding it back together as good as new. Then off to the media blasting in Sacramento, where they removed some rust and all the old paint, and epoxy primed all the fenders and sheet metal parts (the body was in good shape, rust-wise, so we left it alone.)
We spent the next few months cataloging parts and materials, and looking for all the upholstery and rubber pieces. It turns out that Mohair is almost $100 per yard, and about 12 yards are needed to do the whole car. But we wanted to do it right, so grin and bear it. But to be clear, this wasn't intended to be a "restoration", but rather to make it functional and as close to the original as possible without being too restrictive – for example, the original fender bolts were quite rusty and would continue to do that, so we used black oxide stainless steel hardware.
In the summer of 2014, the car and all the sheet metal went to Juan Solario, who operates T&P AeroRefinishers in Salinas, CA. Juan normally paints airplanes, but he likes to do cars, too. We gave him the whole project, including coming up with a reasonable match for the paint. Juan said it would take awhile…
A year later we were in Appleton, WI – for the EAA AirVenture fly-in at Oshosh. At the Red Ox restaurant, we saw a very nice older car – guess what – a REO Royale. Interesting, wonder who owns it? We inquired, and found that Mr. Mark Peters was the owner of this very nice original 1933 Royale. He gave the grand (royal?) tour, including how the car was used in the movie Public Enemies, with Johnny Depp. He keeps a souvenir (toy) tommy gun in the car, just in case. Thank you, Mark!
We periodically visited Juan to see how it was going – after going over all the little rough spots (minor dents) and giving it a good coat of primer, it started to look like it might turn out OK. Juan experimented with a quite a few color samples, and then gave us some choices. He came up with a couple of outstanding colors that seemed to represent the original two-tone greenish-brown very well, but with a lot of depth and vibrancy. When we got to see the car a few months later, it was an amazing transformation. We were able to hang around while his painter applied the red pin-stripes, completing the paint job.
After getting the car back into the barn (at this point, the project wouldn't fit in a garage – we covered the barn with a rack of upholstery panels, boxes of parts, assemblies, materials, tools, etc.), it took the best part of 5 months to put it back together. A couple of the highlights –
Pulling the rear axles to grease the bearings and install new seals – one axle did not want to come out. It took a hydraulic jack, heat and a hammer. Machined a part to accept new seals as the old size was no longer available.
Re-do the rebuild of the brakes – I had researched the available info as best I could, thinking that hydraulic fluid was used in the REO hydraulic brakes. Well, it might have been, but the rubber these days is designed for DOT fluid. The brake pucks and hoses had swollen and were no longer operable. Flushed everything and replaced all the rubber and hoses again.
Upholstery – That is a lot of work, all the panels, strips, and the tuck and roll seats.
Parking Lamps – The pot metal pedestals had really gone to "pot" – Bob was able to get a pattern made and new ones were cast in brass. We sanded and shaped them, got them chrome plated.
Electrical – All of the insulation was turning to dust. Fortunately, they still make the armored wire, so the car was completely rewired and switches cleaned as needed.
Specialty parts – Spark coil, Autopulse fuel pump, King-Seeley fuel gage – Again fortunately, it is still possible to get these items rebuilt. In addition, the speedometer, which appeared to be good when we put it back in, jammed up and sheared the cable. Another rebuild and new cable, all is good.
Woodgraining – I had no idea that this was typical back then – but we purchased the kit, read the manual a couple times, and it came out pretty well.
New tires – the old ones were 50 years in the barn, hard as rock. They don't make Silvertown in that size anymore, but new tires, tubes and flaps and everything is back on.
Exhaust – Apparently, the new exhaust was perhaps for the Model 20. It didn't fit, so back to the same company for a new kit with enough material I could cut it to size. Fitted and installed OK this time.
First start – We checked the fuel, controls, timing, spark plugs, spark coil, oil, radiator, brakes and transmission in neutral. Will it work? Stay tuned… A bit of cranking, some coughing and chugging, and Yes! It Runs! What a relief.
As a final touch, we had seen a nice spare tire cover on eBay or somewhere – but couldn't find the source. We put together some artwork and had it embroidered – a little more sewing, and I think we're about done.
That and numerous other details- new windshield glass, try to get the windshield wiper motors working (failed), get the inside door handles working (jeweler's saw to cut a thin kerf between the two garnish parts), install the new roof vinyl twice (used wrong roof rail the first time), secure all the wiring to the body, install engine controls, and many other interesting things. Fortunately, the chassis was in good shape, but I'm not sure there is much we can do about the little leak from the steering box shaft.
Otherwise, the car is really a lot of fun. I am impressed by the quality and detail. R. E. Olds had a very interesting part of the development of the automobile, and it's nice to have a car that represents the transition between "old" and relatively "new", with Lockheed expanding brakes, electric start, and other features that lasted for many years or we still see today.
Written by Andy Werback