Jerry & Sylvia Hathaway's Citroën SM world speed record car and trailer
It takes a lot to set a land speed record at Bonneville salt flats and a lot of people have tried with a variety of different machines. But the fact that Jerry and Sylvia Hathaway have set the record in a Citroën SM - a front-wheel-drive V6-powered French luxury sedan - says a lot about them. But this isn't the only unusual Citroën SM experience the Southern California couple have had.
It's not enough that they took the performance-enhanced SM to Bonneville - they hauled their specially-prepared Citroën with another Citroën SM that had been converted to a fifth wheel and, oh, the race car was sitting on a trailer that featured Citroën's unique gas/hydraulic suspension system and was custom made for the race car.
Let's start with the fact that Jerry Hathaway has been working on Citroëns since 1972 when he worked as an alignment tech at Irv White Buick in Southern California. He could do alignments on Buick with lighting speed partially because, as he describes the job, it was routine and monotonous and he had been doing it since 1965. So when Irv White added Citroëns to the product line the rest of the mechanics in the shop ran for cover but Jerry found a new passion.
"It was so unique and different from the Buick," says Jerry, "…everything you touched you had to rack your brain for all its worth." The more I worked on it, the more I liked it. I wanted to take over an empty stall and work on SMs only."
Jerry moved to another dealership who, in 1976, decided to also add Lancia to the mix. Unfortunately the service department at that dealership wasn't big enough to handle both Citroën and Lancia according to the latter company so they planned to drop the Citroën line, Jerry's passion. Jerry called Citroën who said he could buy the franchise if he wanted and the dealership agreed to sell the franchise to him for basically the cost of parts and tools.
This was the start of something big as Jerry, an admitted pack rat for Citroën parts, jumped on the opportunity and opened his own shop, Citroën SM World, that was factory-certified by Citroën. Over the years Jerry has developed his contacts within the Citroën community to the point where he can buy parts directly from the factory and has great sources all over the world. And if you're going to restore a Citroën SM, he's the man to see. Period.
"The challenge in rebuilding these cars doesn't include the parts just because I've hoarded the parts."
So how did a passion for the Citroën SM turn into a world speed record? One of Hathaway's customers was hot-rodder and ex-Bonneville dry lake racer John McKibben, who kept talking about what a great shape the SM had for a Bonneville Land Speed Record car. The words sunk into Jerry, who had always wanted to be a drag racer but never had the time to pursue it. He had an SM at his shop that looked like it had been rear-ended by a freight train. It had been purchased originally to be cannibalized for its parts. Instead, it ended up being totally rebuilt as a race car.
At first the car was equipped with three 48 mm Weber carburetors and the usual hot-rod cams and pistons an produces an estimated 250 horsepower from its 183 cubic inches to pull the 3,127 pound front-wheel-drive Citroën to a speed nearly 154 mph at Bonneville's 4.400-foot elevation.
Yep. Front wheel drive. Oh, and the 3.0 liter V6 is a Maserati engine. There are some people who would eschew French or Italian cars and this is both, essentially.
But 154 wasn't enough and the team continued to refine the car over the years, ultimately adding an AiResearch turbo to the mix that kicked the car over the 200 mph mark. Specifically, 200.002 in 1985.
From this place Jerry's wife, Sylvia, took the wheel in 1987 and set the land speed record at 202.301 miles per hour.
It used to be that the car was pulled by a pickup and trailer but, someone else decided they wanted this rig more than the Hathaways and liberated it from in front of the shop. When the team were creating the race car they had already moved a lot of the Citroën's unique suspension components to the rear of the car so this gave Jerry an idea.
"When I put the turbos on the race car the engine compartment was too full and so we moved some components to the trunk including the suspension compressor. That told me that the trailer could have the same technology and be self-contained."
And so it was - the trailer is 100% Citroën and has two suspensions - one for loaded, one for empty.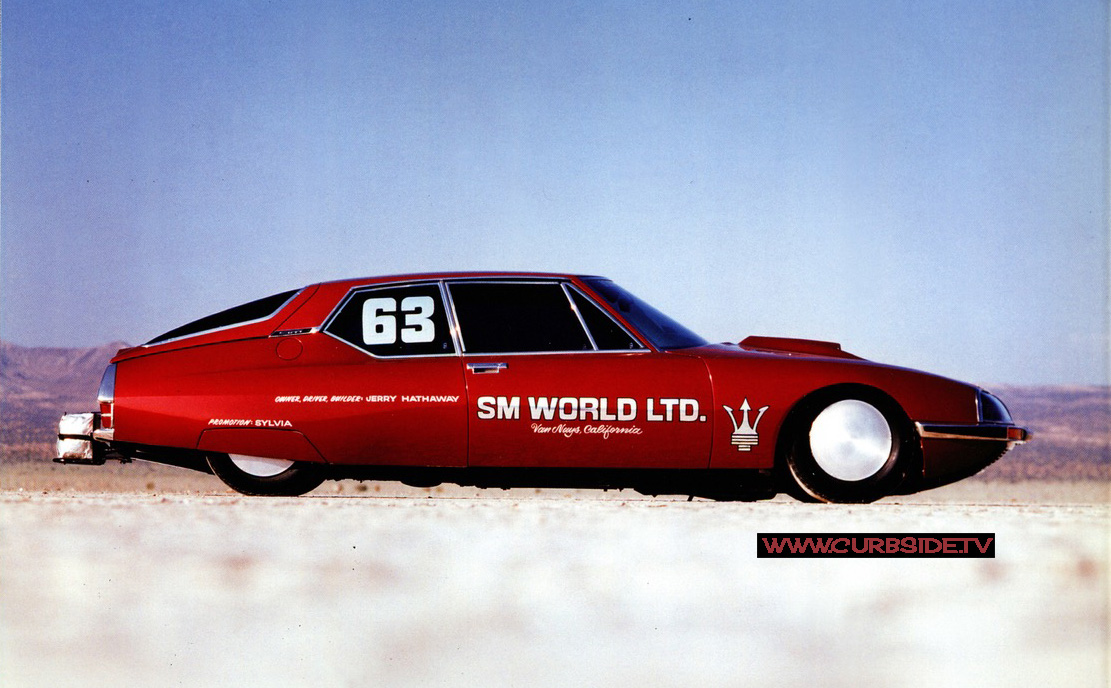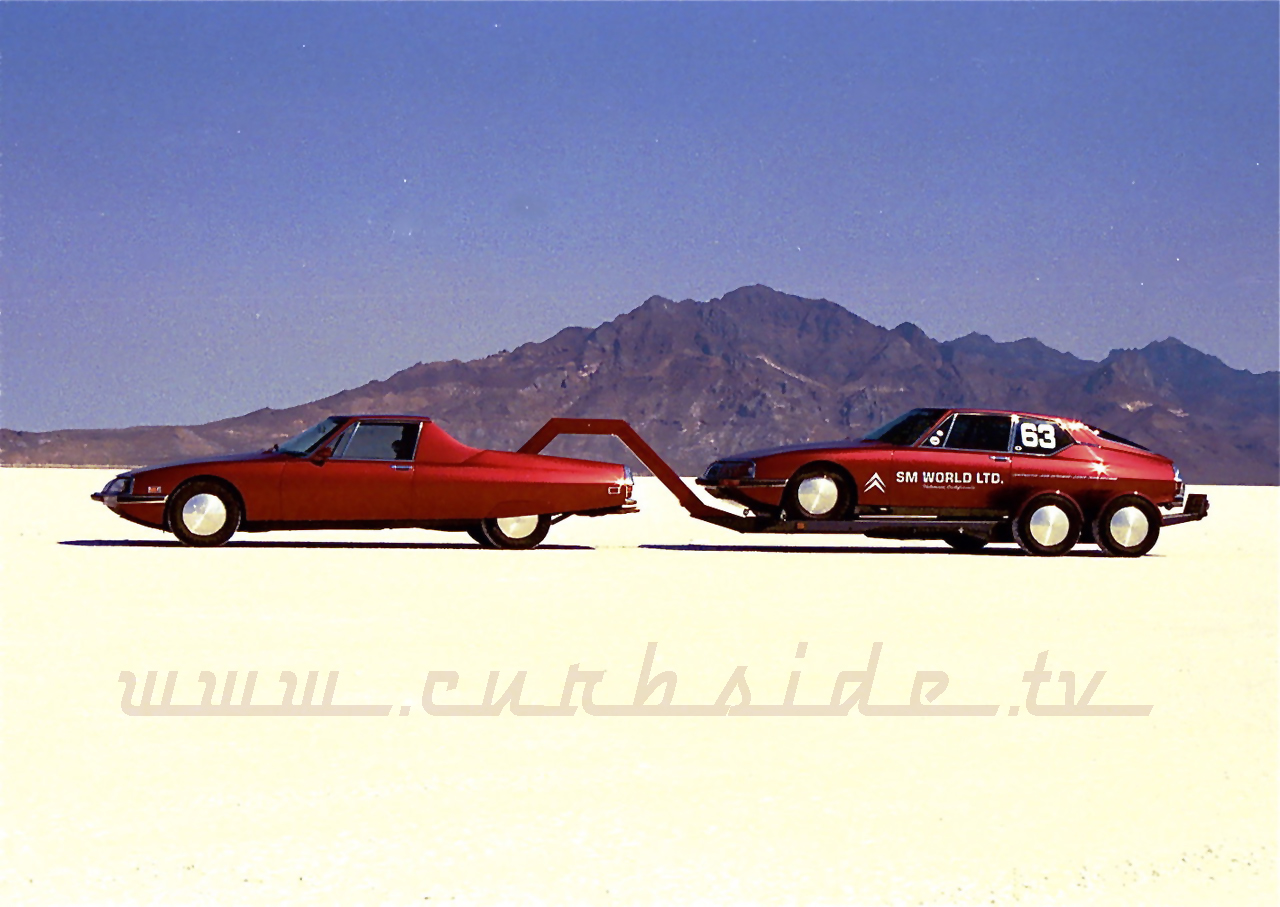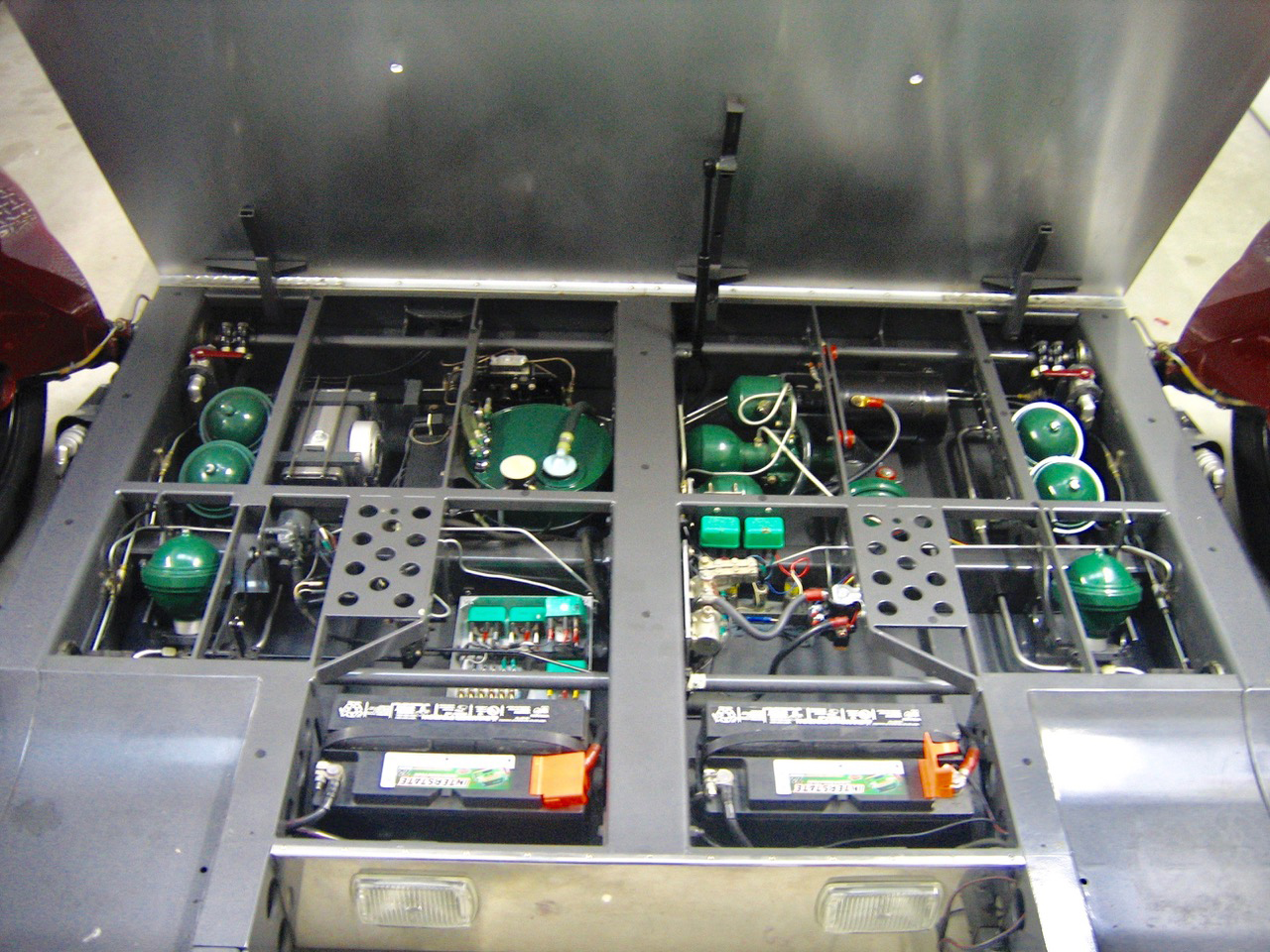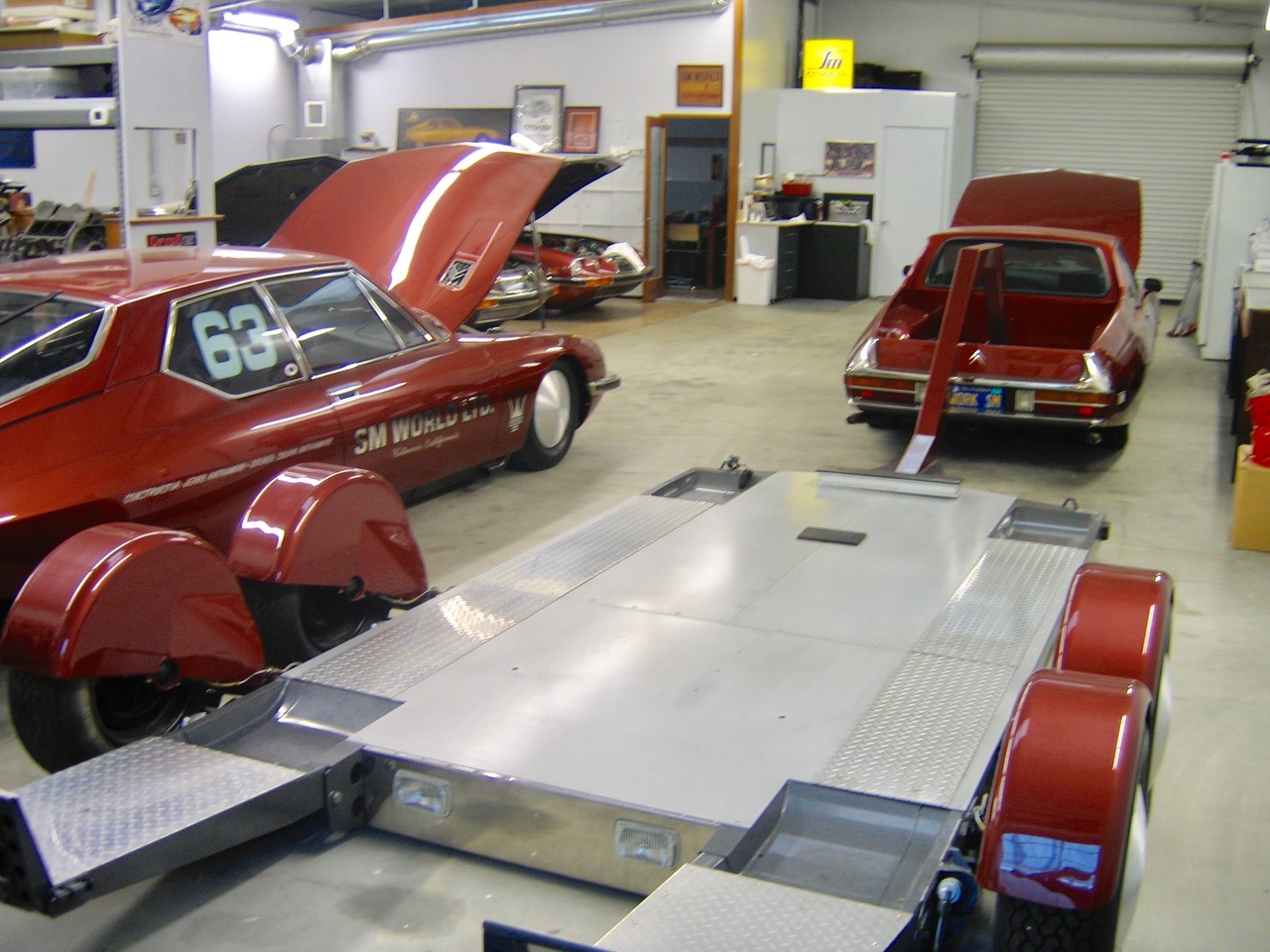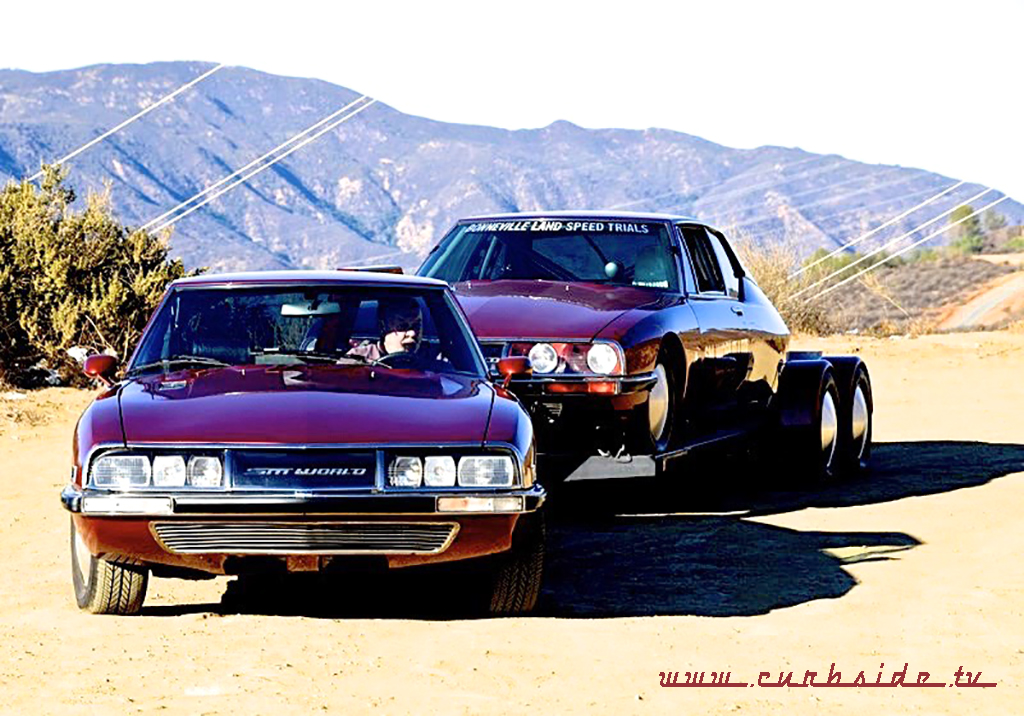 The Citroën suspension is completely unique in that there are no traditional springs whatsoever. Instead, there are steel spheres with two chambers, one of which is pressurized to 600psi with nitrogen, which is a gas. A gas can be compressed which acts as the dampening agent. Hydraulic fluid is on the other side of the diaphragm which goes out to the wheels/suspension parts. There is an entire Wikipedia page dedicated to this suspension design.
While not everybody is going to be as clever and resourceful as Jerry and Sylvia are with these cars, there is a growing interest in the Citroën SM. The very advanced technology in the car combined with incredible ride comfort, uniqueness and a great driving experience make these increasingly desirable collectors cars. While they do have the reputation of being unreliable it's more that they are specific about how certain things are maintained including using the correct parts and specific oils. Those who follow the repair guidelines for these cars are rewarded with a reliable, exceptional and wonderful machine that would stand out at any car show.
And if the SM isn't unique enough already, you can build a speed record race car and a unique pickup truck and a trailer with a dual air suspension. Or just go see Jerry and Sylvia and have them take a gander at your SM or help you find one.