Scientists tell us the natural evolution of species usually proceeds at a leisurely pace, but occasionally makes sudden leaps. Carmakers are similar; with incremental changes their usual rule. But every once in a while, a sudden leap into the future brings major changes, pushing a make into the future. Chevrolet made such an evolutionary leap for the 1941 model year. Modernization brought a wider body with headlights integrated into the fenders, a horizontal grille, and enclosed running boards. Chevy ads compared their 1941 models to more expensive offerings from Buick and made good on the boast with similar styling, a larger interior with rich looking faux wood grained dash, and a reworked engine. "Every man's car" had grown up to offer premium content at an entry-level price.
A "Vacuum-Power" transmission offered shifting assistance in the days before automatic transmissions were widely available. Once you applied the clutch and began to shift the "three on the tree," an invisible hand would "suck" the lever into the chosen gear.
By 1941, the world was embroiled in WWII and Detroit's factories converted to become "the arsenal of democracy," racing to supply equipment for the war effort. In step with the times, Chevrolet named its improved 90 horsepower engine the "Victory Six," but 1942 was declared the final year for U.S. auto production until 1946. When GM returned to building cars after the war, its 1946-48 models were simply warmed over 1941s. They sold like hot cakes in a car-starved postwar market.
Chevrolet Division sold over a million copies of their groundbreaking '41 models. The "woody" wagon was the division's most expensive model with a snappy-looking convertible in second place.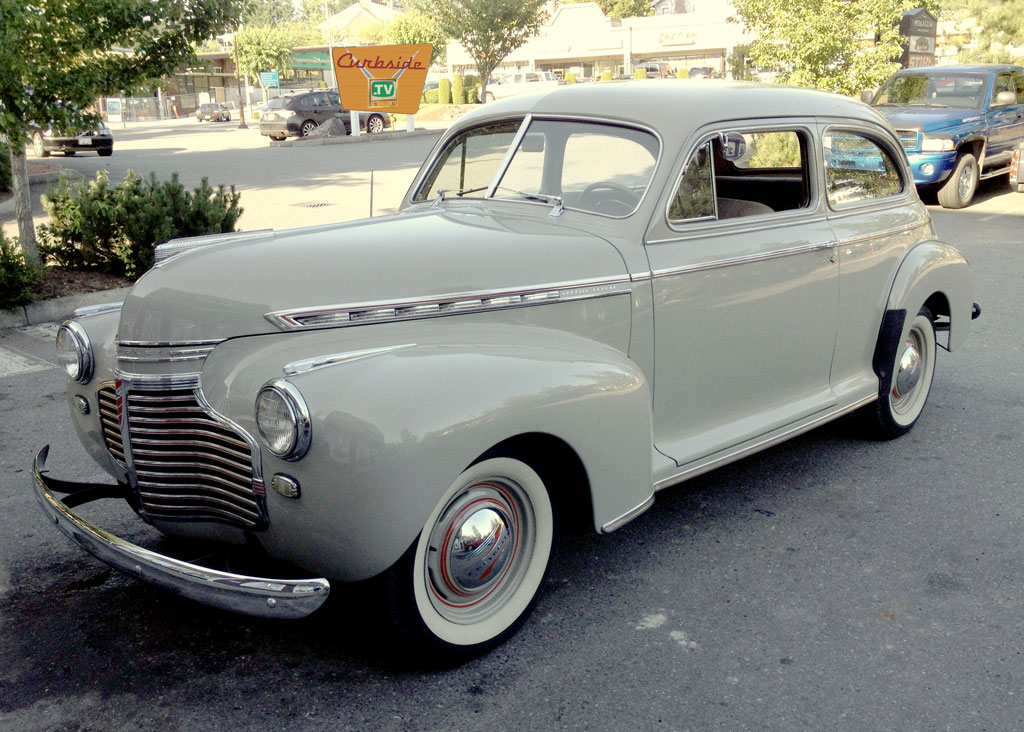 I drove a 1941 Chevrolet Special Deluxe Coupe during high school and later, a 1947 sedan. Despite my immature approach to routine maintenance, their "stovebolt six" engines and vacuum-assisted "three on the tree" transmissions proved to be bullet proof. And that gorgeous Harley Earl designed body sparkled in the metallic Buick "Surf Green" paint job I had a family friend spray. A set of chrome-reversed 15" wheels completed the look and I was all set to cruise the root beer stand.
Due to the '41 Chevy's popularity with hot-rod fans and customizers, it's become increasingly difficult to find unmolested examples. When you do find one, they're surprisingly affordable classics. A black Special Deluxe Coupe as in the attached photos sold for $17,600 at Barrett-Jackson in 2014.
Written by Jim Cherry.