By the 1950s, General Motors was a mighty colossus, the biggest business enterprise the world had known and unchallenged leader of the world's motor industry. With such assured success came an interest in art for art's sake, resulting in a startling series of concept cars unequaled before or since. Led by legendary design chief Harley Earl, GM designers' creativity astonished the world. Their otherworldly fantasies were shown off in a series of elaborate free-to-the-public touring shows called Motoramas. Oldsmobile's Golden Rocket (also referred to as the XP-400) was a super star of the 1956 tour, revolving on a spotlit turntable as a gorgeous spokesmodel extolled its wondrous advances, sure to arrive at your local dealership, eventually.
The Golden Rocket's styling was inspired by science-fiction rocket ships that were thought to soon carry us to the stars. Its streamlined, rocket-pontoon body apropriately ended in nosecone points at both ends. It was a low-slung two-seater, so roof panels flipped up as the seats swiveled outwards and raised up gracefully to receive its lucky driver and passenger. The speedometer was cleverly placed in the center of the Rocket's steering wheel in an aircraft-inspired dashboard. The 1963 Chevrolet Corvette borrowed the Rocket's fastback roofline and split rear window, a one-year only design that remains one of the most valued collector 'Vettes to this day. Its sleek fiberglass body was shown off at the Paris Auto Show of 1957 where it created a sensation.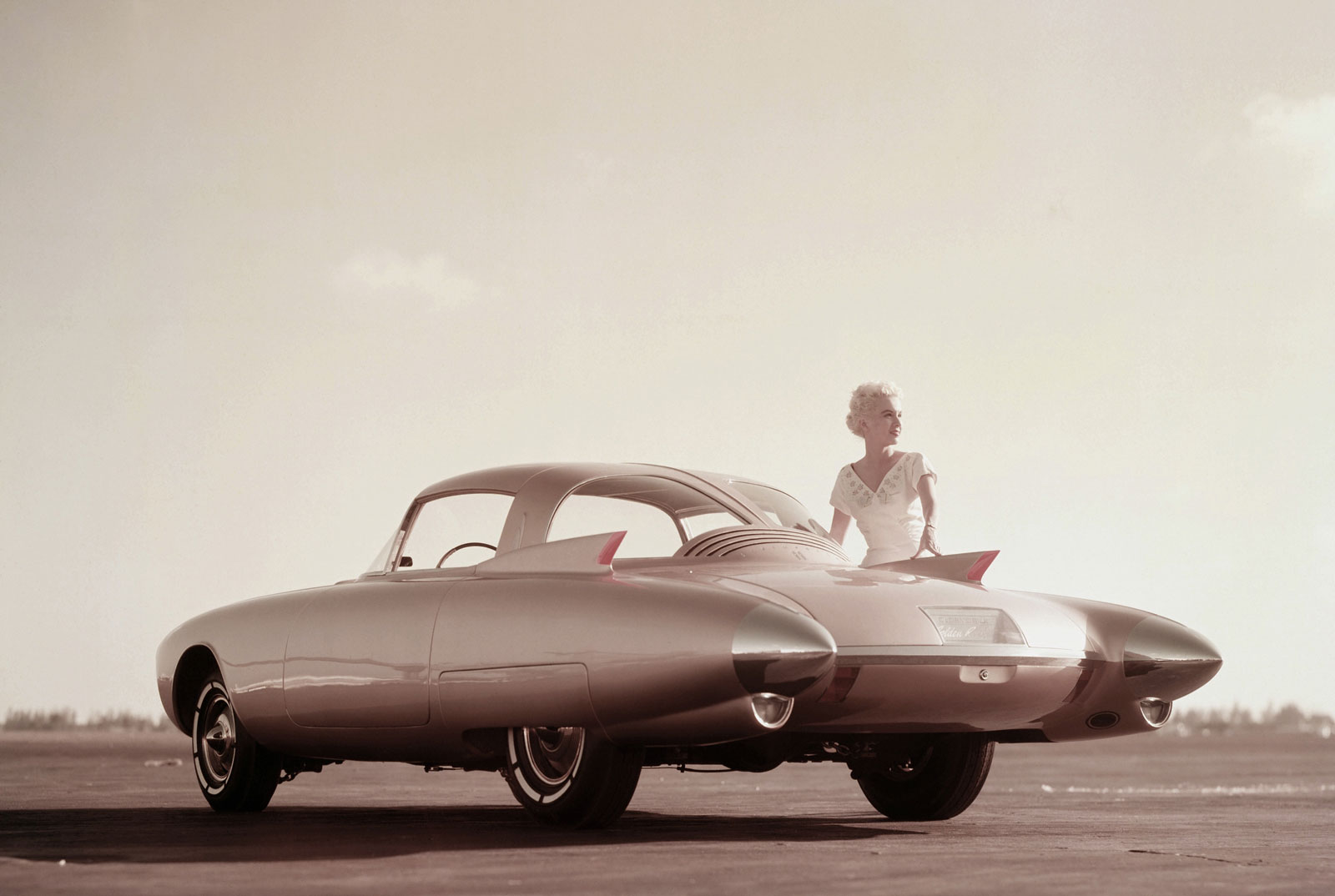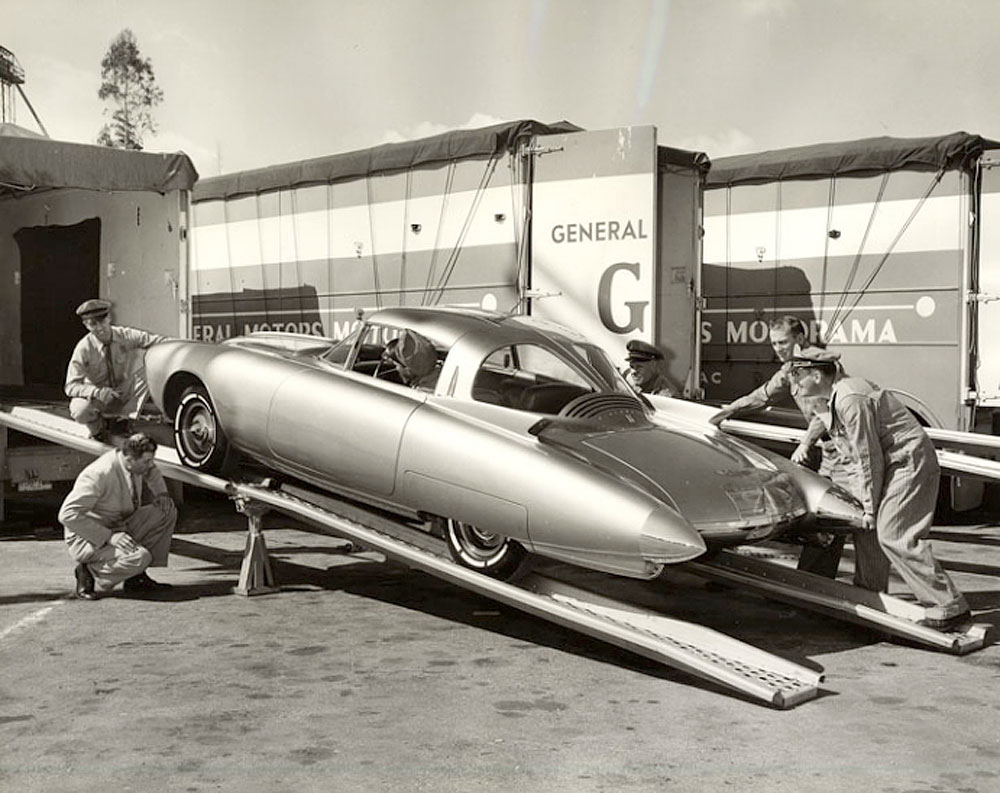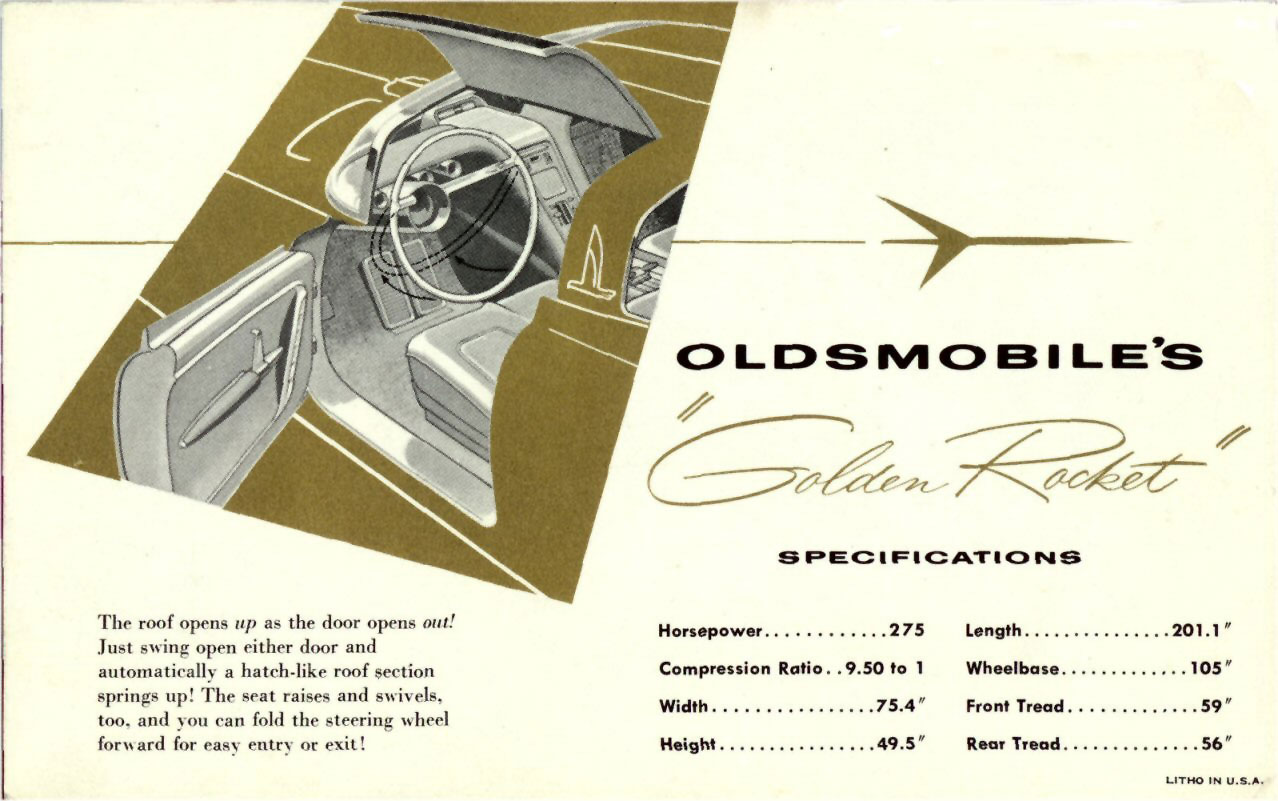 Said to be powered by a 324 cubic inch Rocket V-8, the Golden Rocket's low 2500 pound curb weight would have made it a scorcher if it actually ran, but there doesn't seem to be evidence of that.
Current existence of Oldsmobile's Golden Rocket seems doubtful. Though photos show it still existing as late as 1962, it's been unseen since. Most GM Motorama cars are accounted for, one way or another, so the Rocket's current state remains an intriguing mystery. Perhaps, under a dusty tarp in some forgotten old barn, the Golden Rocket sits patiently awaiting its second chance at stardom.